<
#000 - Heartwarming ORIGINAL IG Tile,"My Little Dog"
by Judith Dundon

Here is a gorgeous original tile designed by well known Lima, NY artist, Judith Dundon. This tile was fired in Judith's own kiln. In the center is a round recessed area that displays the raised relief sculpted head of an exquisite Italian Greyhound.
The model was Sheridanes Our Gracie (aka Glamorous Gracie or "The Queen"). Under the portrait is the following engraved message by American author Edith Wharton: "MY LITTLE DOG...A HEARTBEAT AT MY FEET". Those few short words express the incredibly special way in which humans and IGs share pure love.

This wall hanging measures: 6" x 7.5". At the top is a leather strap for easy hanging. Under the author's name is the maker's initials, "J.D.".
There are very few of these in existence. Someday they will become valuable collector's keepsakes.
---
Sale of these tiles benefits the IGCA Health Fund.
---
There are currently 5 ONLY available.
Price per tile INCLUDING shipping: $39.00
---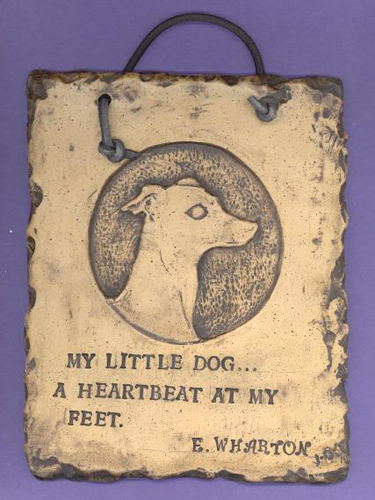 ---
If paying by Check
Please email Judy Longhouse to Order