# 030B Glass Italian Greyhound Figurines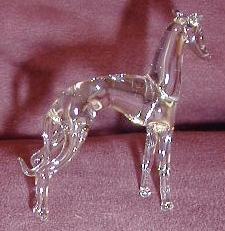 The artist, Glenn Annable, has hand crafted these beautiful figurines.
Each one is made of solid glass and is tiny...about 2".
This style also has a loop of glass for hanging.
It takes Glenn between 45 minutes and an hour to make each one.
No two are exactly alike.
The IG figurine is in a standing position.

Price for each is $23.00, including shipping.
Please include item number and quantity when placing order.
*Also indicate with or without a loop.
(USA only on free shipping)
Please email Judy Longhouse to order
Back to Rescue Items List