# 015
Denim Dream Cover-Up
for 8 - 10.5 Pound IGs!
Personalized Embroidery!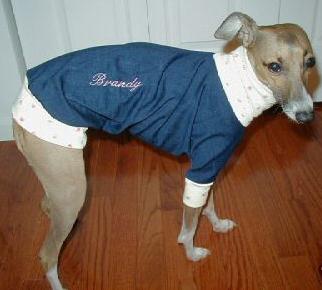 Here is the height of custom made haute "coature" IG fashion. On the side of each outfit YOUR dog's name will be professionally embroidered. What a gorgeous stylish personalized accent!!!
Each outfit is made of light weight stretch denim with overcast seams! This Iggy wear is just warm enough to keep the chill off.When necessary just throw in the washer and dryer.These coverups are great for around the home (especially in the dead of winter when north winds chill even indoor air) , short car trips, and quick breaks outside even when temperatures are nippy. These are NOT heavy winter coats and are best worn either indoors or outdoors when the temperature is above 55 or 60 degrees.

Candy Earl is the genius behind these lovely cover-ups. Candy KNOWS and loves IGs. She is an Iggy Mama herself and has long supported IG Rescue in every way possible. Sale of these Denim Dream Cover-ups benefits the Italian Greyhound Rescue Foundation.

Take a look at the pic above. The trim may vary..but all cover-ups will be made of stretch denim. Fits 8 to 10.5 pound IG.

Price: $35 each including shipping.
Up to 5 letters will be applied free of charge.
Extra letters are just $1.00 each.
Sale of this item benefits IGRF.