<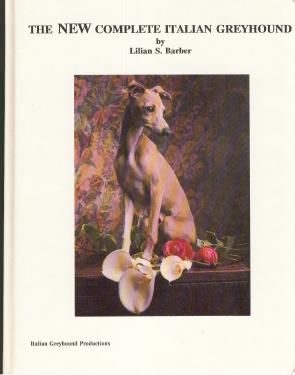 # 171 The New Italian Greyhound

Every Italian Greyhound parent should own a copy of The New Complete Italian Greyhound by Lilian Barber. Purchase of this book can save hours of worry, provide hours of pleasure and greatly increase understanding and knowledge of this special breed. For all intents and purposes it is "The Italian Greyhound Bible"!! The 244 page book is divided into three parts. The first part is: "An Italian Greyhound Primer". There are chapters on the following topics:
1. Characteristics of the Breed
2. The IG Standard
3. History
4. How and Where to Buy a Puppy
5. Before You Bring Your IG Puppy Home
6. Grooming
7. HOUSETRAINING
8. Nutrition
9. Health and Health Problems
10. Basic Training
11. Coping with Problems 1
2. Travelling with your IG
13. Getting Involved
14. IG Collectibles and collectors 1
5. Photographing Your IG
16. To Show or Not To Show
17. An Introduction to Dog Shows. Part two is "The Italian Greyhound as a Show Dog" and part three is "Advanced Italian Greyhound Ownership".
There are only TWO copies left of this collector's item! They are SIGNED and now out of print.
Price is $45.00 each.
This is the kind of book to read and re-read over and over. You will always find something new that had somehow been missed on previous readings. Wait until you see all the beautiful pix, appreciate the quality of binding and take a look at the exquisitely beautiful hard cover. This is a quality book both outside and inside..where it really counts!

Please email LonghouseJ@aol.com to order.

Back to Rescue Items List