#177 Toasty Warm Fleece and Nylon Jackets
Here are some toasty warm elegant white fleece and black stretch nylon IG tee-shirts. They are beautifully made and will fit Iggy to perfection. In the pix below Gracie once again graciously consented to model in excange for a 3 year supply of treats.
According to Gracie these tee-shirts are comfortable in addition to being warm and stylish!
They are available in five sizes:extra small, medium, large and extra large.
These tee-shirts were donated by Laura Dion Jones. As many of you know..she is a talented designer and her clothes...both human and canine... always display incredible quality and superb taste in addition to comfort!!!!!
100% of all profit will go to IGCA Rescue to directly help a dog in need. Three cheers for Laura!!!!!!!! $25.00 each
\
New!
There are now limited sizes in the following adorable Dion Jones fleece T-shirts.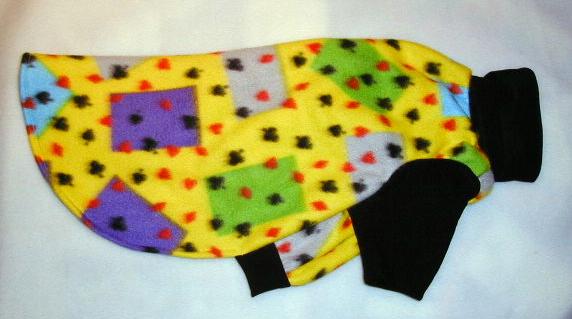 Deck of Cards
One medium, 3 Large, 4 Extra Large
---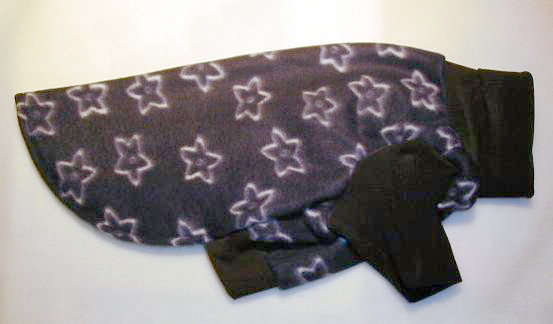 Blue Stars (Navy and White)
Two Medium, 4 Large, 4 Extra large
---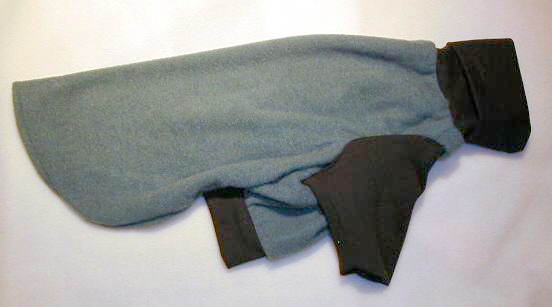 Teal Fleece
Two Large, Two Extra Large
---

anche Wallace has devised a gorgeous pattern (template) for an Iggy design within a pumpkin. The pattern is made of paper - black lines on white paper. Blanche and Ray will provide 2 sizes - one for a "small to medium" pumpkin alPlease email LonghouseJ@aol.com to order.
Back to Rescue Items List