#178 Fleece Spring or Fall Lounge Coats
Here are some incredibly comfortable and warm fleece lounge coats. Mrs. Mary Frankio (Mary Frankio's Mom) is a professional seamstress. She made these coats to fit every size IG.
Each coat has two black velcro straps (one at the neck and one at the side) to assure a comfortable fit. They are bound around the so that they keep their form. Midweight 200 polar fleece. Assorted colors available -please specify boy or girl in Message to Seller if using PayPal.Sorry-no color choice at this time.
These coats also are ideal as an underjacket during the coldest winter temperatures because of their snug fit. Houndtogs winter coats fit over these coats and your dog can benefit from the additional warmth.
Also...sale of these items now benefits IGCA Rescue.
Price $18.00 each including shipping.
Please note: There will be a two week turn around time for these coats.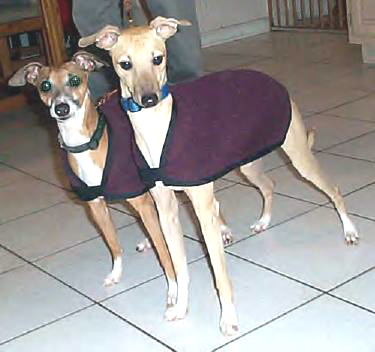 Models are Omar and Baba Partida
Please email LonghouseJ@aol.com to order by check.