#181 Patriotic Iggy Bandana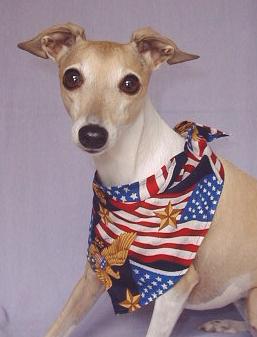 ---
We are offering a gorgeous patriotic bandana. An American flag, gold eagles and gold tassles are prominently displayed on a dark background. The design is rich and absolutely gorgeous.Each one has a velcro strip on each end for adjustable sizing. Actually...I wear one of the Greyhound size bandanas and my IGs wear the Iggy size. By wearing this lovely bandana your dog can join the global fight on terrorism. Feel free to e-mail me for a pic of the material. The price is $6 for one bandana and $5.00 each for two or more.

The bandanas that we have now are strictly for small dogs like Iggies...but if your Greyhound, Whippet or Great Dane, etc. would love one ....let me know and we'll see what we can whip up. Both the Halloween and flag bandanas could be made in larger sizes I'm sure. When it comes to patriotism especially...we don't want to leave any dog out!!

Please click here to order one.

---
Please click here to order two or more.
Please email LonghouseJ@aol.com to order.