#182 Limited Edition IG Fridge Magnets
---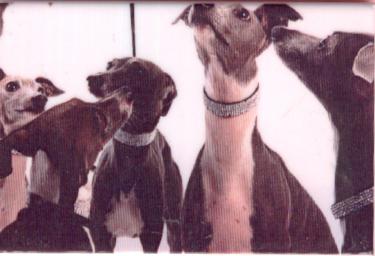 ---
IGCA Rescue has purchased a set of 100 magnets that display the same exquisite IG photo that graces the front cover of our 2002 calendar. That photo was professionally done by Rob Perisho who is a terrific Chicago area photographer. Measurements are: 2" x 3".
On the back of each magnet is the IGCA main website address.
These magnets will be sold for $5 each + $1.00 shipping per order. This is strictly a limited edition series. When the 100 magnets are gone...they're gone and in time they should become valuable collector's items. We have kept the price low for a quick sale.
If you'd like to order a magnet or magnets...please write a short note telling me how many you'd like, enclose an extra $1.00 per order for shipping, make your check in the amount of $5 per magnet payable to IGRF (IGCA Rescue) and mail to:
Mrs. Judy Longhouse
Italian Greyhound Rescue
196 Parklands Dr.
Rochester, Ny 14616
All profit resulting from the sale of these magnets will go to benefit IGCA Rescue.

Please click on first PayPal button to order one Magnet.

Click on second PayPal button to add the $1.00 shipping cost per Magnet.....Thanks!
---
Please email Judy Longhouse to order.
Back to Rescue Items List