#185 Giraffe
The zIggy Zoo Suit Collection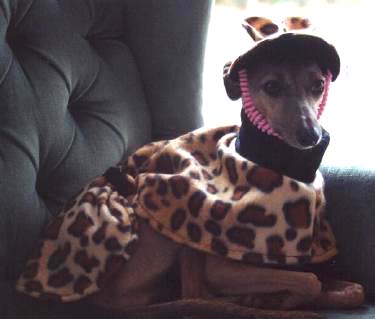 7 only!
---
Susan Frumerie Pretto was a perfectly normal lazy person until she aquired two Italian Greyhounds by the names of Sweet Pea and Farfalle. Those two little imps have inspired their human Mom to design and sew a whole collection of warm IG coats and hats with a zoo theme. Sue is now so busy sewing that she hardly has time to breathe.
Her gorgeous coats are made of quality 100% polyester fleece. The belt is adjustable for a 10-16 inch waist. (As per Farfie's request, a larger size belt, 14-20 inch, could be custom made for a chubby iggy.) :-)
We have decided to call these items: "The zIggy Zoo Suit Collection".
Each coat comes with a matching hat...and these hats both fit and are comfortable on an IG.
They are available in:
Please click on link above to view these adorable items.
The price is $29.00 for each complete suit (coat and hat).
Please email LonghouseJ@aol.com to order.



Back to zIggy Zoo Suit Collection