#188
A Book of Italian Greyhound Humor by Karen B. Boardman
illustrations by Craig C. Boardman
The title of this book should have been Poems AND MORE for the Iggy-Hearted!!!
If you'd like a good belly laugh...latch onto a copy of this book.
The author and illustrator are Italian Greyhound parents so the humor is aptly and comically from vintage IGGYDOM!!!
In illustration one below you can see a lady carrying an IG in the back of a
tote bag. Iggy is grimly hanging onto the Vet's door. The caption says: "
Popular Iggy tune..." and Iggy is singing..."Fleas release me, let me go...."
<VBG>
In illustration 2 below there is a man with 5 IG head fingers. Here is the
poem that accompanies that illustration:

"This little IGGY went to market
That little IGGY stayed home
This little IGGY had roast beef
That little IGGY had none
This little IGGY went wee wee wee on the carpet
then was put outside when master came home. "

Now...how familiar a scene is that!!!! (and yep...bellyband sales are
skyrocketing. There are lots and lots of naughty little boys in Iggydom <G>)

There are 24 pages of Italian Greyhound joy in this delightful book!!! It is
printed with black on cream. Measurements are 8.5" x 11" . It is bound with
plastic on the left side. This is one you won't want to miss!!!

Ear Language T-shirts were inspired by this book and are available here. They are adorable!

Sale of this book benefits the Italian Greyhound Rescue Foundation.

Three cheers for the Boardmans!! It is so kind of them to share their
wonderful talent directly with the little dogs we all love!!!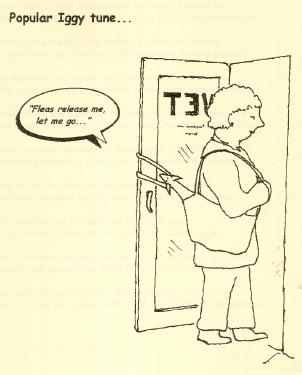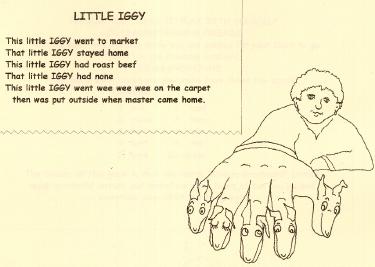 Price is $23.00 for a single copy including shipping. For more than one copy the price is $19 each.
Please click on first PayPal button to order one copy. Please click on second PayPal button to order additional copies.


Please email LonghouseJ@aol.com to order by check.

Back to Rescue Items List