NEW! IG Car Window Decals




Here is an eye-catching bright yellow car window sticker or decal that says: "Spoiled Rotten Italian Greyhounds in Transit". Measurements are: 3.75" x 7.25". If you prefer to delete the "Spoiled Rotten"...just cut off the top of this sticker. However...you may as well leave it on there. Everyone knows that anyone who is proud enough of Iggies to sport an IG window decal ...definitely spoils 'em rotten <G>


There are two different versions available:

1. Decal that fits INSIDE your car window
or

2. Decal that fits OUTSIDE your car window.


Price: $3.00 per decal or 2 for $5.00, including shipping for USA residents. International shipping is extra.

Please contact Judy Longhouse for details.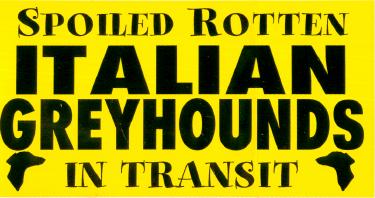 Please email LonghouseJ@aol.com to order.



Back to Rescue Items List