Order your 2008 Calendar spots now!
Now is the time to submit the photo of your special Italian Greyhound for
inclusion in the 2008 Italian Greyhound Rescue calendar. We are selling photo
spots to help pay costs for the 13 month full-color calendar. Here is what
is available: A. IGGYMATE OF THE MONTH LARGE PHOTO SPOT. One photo of an
Italian Greyhound or multiple IGs is featured per month. We ask that you
choose a well done photo (either digital or paper) or a professionally done photo
for this feature. The cost of reserving the big Iggymate of the month photo
spot is $150. All months are currently available...so you may choose your
own preference for the specific month you would like your IG featured. B.
THUMBNAIL PHOTO SPOTS. You can include ANY pet (dogs of any breed, cats,
birds....even turtles! <G>) There will be 6 to 8 spots sold per month. The cost
of a thumbnail photo spot is $25.00. You may purchase as many thumbnails as
you wish! These thumbnails allow everyone to participate in the calendar!

Once again the calendar will be in full glorious living color. This is
expensive. Please share the photo of your special IG or pet with all of Iggydom
through the calendar. Every year when the calendars come out people LOVE to
see all the different dogs (and pets) that are included. Every penny in
profit generated by calendar sales will be used to directly help an Italian
Greyhound in need!

Please e-mail me privately at: _LonghouseJ@aol.com_
(mailto:LonghouseJ@aol.com) and reserve a place in the calendar for your animal best friend!!!!!
Thanking you all in advance!!! I can't wait to see your photos!!!!!

Judy Longhouse
Italian Greyhound Rescue
Here is last year's calendar:
Italian Greyhound Rescue Foundation 2007 Calendar
Calendar Cover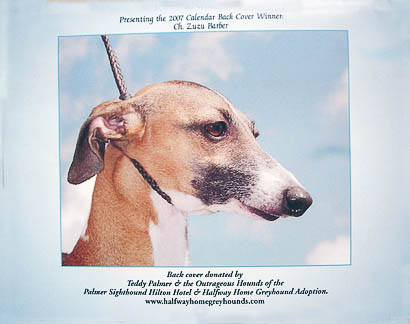 Back of Calendar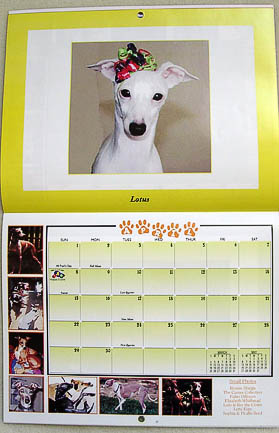 Sample of interior
When ordering by check, please make your check payable to IGRF and mail to:
Judy Longhouse
IGRF Calendar
2194 Michigan Ave.
Lima, NY 14485


---
Please click on button to pay for one thumbnail at $25.00 each.
---
Please click on button below to pay for one Centerfold at $150.00 each.