<




All-Occasion 12 Bandana & Collar Set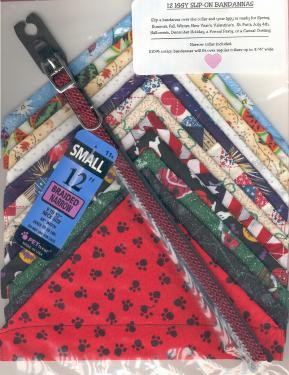 Thanks to Margie Allison here are 12 slip on bandanas for ALL occasions!!!! Iggy can wear a different one every day! There is also an enclosed narrow braided collar fitting 9" to 12" neck sizes. Each bandana slips on over the collar. Tags can be worn as usual and there will be the extra feature of an attractive bandana.

You can be ready for: Spring, Summer, Fall, Winter, New Year's, Valentine's, St. Pat's, July 4th, Halloween, December Holiday, a Formal Party or a Casual Outing. That about covers all the bases!!!

These bandanas are made of 100% cotton and will fit over any regular collar up to 3/4" wide. The designs are all LOVELY!!!!

Price $25 for collar & 12 bandanas. Shipping included. International shipping extra.
100% of profit goes to the Italian Greyhound Rescue Foundation.
Please email LonghouseJ@aol.com to order.
Back to Rescue Items List