Stars n Stripes IG Sweater Patriotic
Cindy Zember has outdone herself with this latest shipment of hand crocheted IG sweaters. The design is all in red and white stripes dotted with a special rectangle down the back of shiny metal red, silver and blue stars against a blue background. . It is OUTSTANDING!! This is Cindy's BEST WORK EVER and her sweaters have always been absolutely GORGEOUS <G>!!!!! Sweaters are available in small and medium. However...these sweaters definitely run small. If you have a small IG in the 9.5 to 10 pound range...better order a medium. If your dog weighs under 9.5 pounds..then you'll be fine with a small. Sweaters are washable and I would recommend hand washing because of the stars.
Sale of these sweaters benefits IGCA Rescue.
2 Small only!
Price $34.00, including shipping.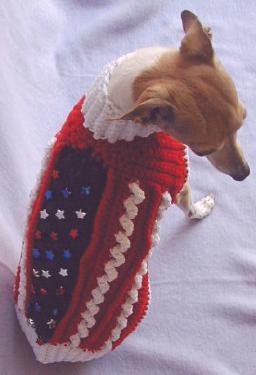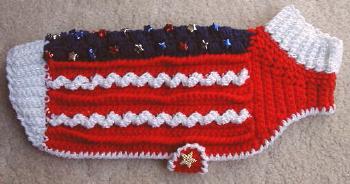 Please email Judy Longhouse to order.
International shipping is extra on all items.
Updated 04/23/05