IG Ear Language T-shirt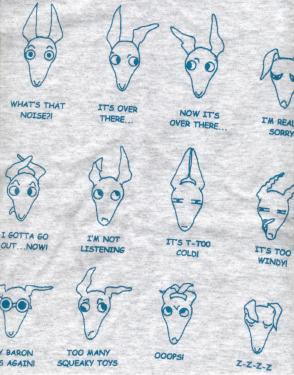 Have you ever wondered what your IG is trying to tell you?
Wonder no more!!!
Craig and Karen Boardman have translated Iggy ear language into English.
Anyway...thanks to Mary Frankio...we now have a quality Anvil 100% pre shrunk cotton tee-shirt that features twelve IG ear language messages into English. There are an even dozen IG head teal colored illustrations on the front of a gray tee shirt. When you purchase that tee-shirt you will KNOW when your IG is communicating the following:
What's that noise? It's over there! I'm really sorry! I gotta go out..NOW!
I'm NOT listening. It's toooooo cold!, etc. etc.
You will die laughing at these Iggy ear messages!!!!

This is a must-have for every IG owner!!!

Tee-shirts are available in sizes: medium, large and XL.
New! We now have XXL, XXXL and XXXXL in ash color -please add $2 to the order if ordering one of these sizes - thanks!
Price: $14.00 each
Two for $24.00
Including shipping.

International shipping extra.

If you are using PayPal please indicate your choice of size in
the message window provided- "Message to Seller"...Thanks
Please click here to order one SM-XL
Please click here to order two SM-XL
Please click here to order one XXL-XXXXL

Please click here to order two XXL-XXXXL


Please click on first PayPal button to order one T-shirt.

Click on second PayPal button to order additional T-shirts.