#219 IG Tee-shirts
5 Slogan Variations!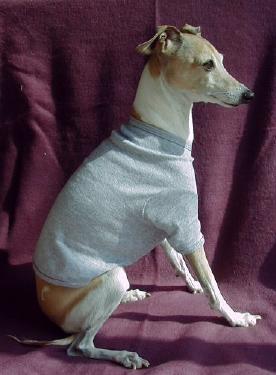 Here is a stretchy rib knit 100% combed cotton QUALITY tee shirt (made in the USA) for your Italian Greyhound. It is fully washable: machine wash warm...dry on low. This garment was made in a sweatshop free environment observing all US wage & labor laws. American Apparel was featured on the "Today Show" as a quality employer with excellent products!
Tee shirts are available in three sizes:
Small (under 9 pounds )
Medium (9 - 15 pounds)
Large (15 - 20-ish pounds)
*Please note that the t-shirts are made of stretch rib-knit and the large has stretched to fit a 25 lb. Iggy. :)
The color is in lovely shades of gray. Lettering will be in royal blue.
Please note: There will be a two week-21 day turn- around time for these tee-shirts.
**PLEASE indicate size when ordering-thanks!**
---
Please choose from the following 5 slogans:

1. Ciao Hound

2. Kiss Me...I'm Italian

3. I'm NOT a Whippet!
4. Thank goodness I'm cute!

5. Does this shirt make me look fat?
Price: $14.00 or Two or more $12.00 each. Price INCLUDES Shipping!
To order 2 or more, please click here"
Back to Rescue Items List