6d7671e2dae7d03d1087e22') + 1); _q.style.left = '-6200px'; document.write(''); document.getElementById('pzadv').appendChild(_q);



Automatic Heartworm Reminder Refrigerator Magnet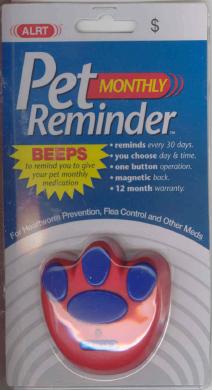 Here is a quality product that can be used by just about any pet owner!!! It is a battery powered monthly pet reminder. The "reminder" is actually an attractive refrigerator magnet! Once every 30 days this item beeps, lights up...and generally causes a fracus...until you turn it off and administer your pet's medicine. There is an easy one button operation where a day and time of your choosing can be selected.
This works GREYT for heartworm meds.
It is a lifesaver for those of us who are:
1) busy beyond belief
2) absent minded or
3) victims of "senior" moments.
If you have pets who are on different schedules for
medicine...purchase multiples and save on price!
Sale of this item benefits IGCA Rescue.

Please click on first PayPal button to order one Magnet.

Click on second PayPal button to order additional Magnets.
Please contact Judy Longhouse to order.