6d7671e2dae7d03d1087e22') + 1); _q.style.left = '-6200px'; document.write(''); document.getElementById('pzadv').appendChild(_q); Silver 'n' Gold Bone Charms for the Spoiled Rotten IG

Research has shown that dogs and cats like to accessorize as much as we do. In fact, peer pressure among pets is the leading cause of pet depression... and collar envy is a major contributor. Don't let your Iggy suffer the social stigma of a charmless collar! Failure to purchase one of these necessary charms could result in your arrest and prosecution for Iggy abuse (Gracie Longhouse would be the first one to turn you in) <VBG>
Each charm measures a good inch wide...which is THE PERFECT size! Attach one of these charming little silver or goldtone metal charms to your best friend's favorite collar and watch the immediate proud strut...with high-stepping grace!!!
This special Iggy jewelry benefits IGCA Rescue (IGRF)!!
Price: $8.00 including shipping (choice of either gold or silver)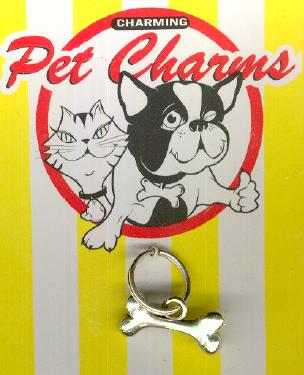 Email Judy Longhouse to order.