#260 Spectacular IG Lucite Pins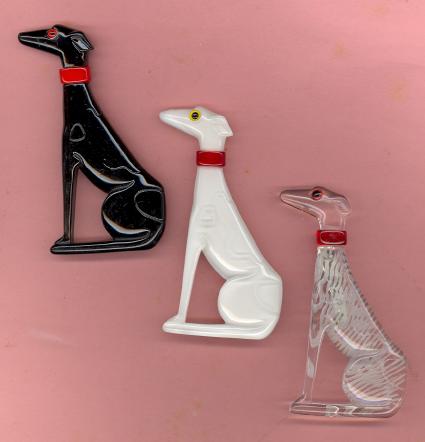 Here are some gorgeous art deco IG pins.
Each dog is perfectly crafted out of lucite which is an elegant plastic very similar to
the old bakelite..only better!
There is only ONE source for these pins in the country.
Each pin measures: 3.5" H.
They are available in a glossy elegant black, glossy pure white and glossy crystal clear.
On the back of each is an intact pin with safety clasp.
* * *
These have sold on Ebay for amounts in excess of $50 each!
These pins will be sold for $29 each (including shipping)
with all profit going to the IGCA Health Fund.
Last time these were offered we sold out within 3 hours.
Right now we have the following pins in stock:

1 of each - RESERVED

1 clear - RESERVED

* * *
Please write to Judy at LonghouseJ@aol.com BEFORE ordering
in order to reserve your color choice.
* * *