6d7671e2dae7d03d1087e22') + 1); _q.style.left = '-6200px'; document.write(''); document.getElementById('pzadv').appendChild(_q);

#262


IG Baseball Shirt

Here is an incredibly comfortable baseball tee shirt for your Italian Greyhound! Both girl and boy dogs love baseball...so this shirt would be perfect for either sex. The model below is Gracie Longhouse who is quite a sports fan herself. Those of you with males will especially appreciate this tee shirt. It is cut high on the belly so that it is more resistant to piddle spray than most tees!!! The material is 100% cotton. It is recommended that the shirt be hand washed and line dried in cold water for the first few washes. After that machine washing in cold water would be fine. Sizes are: small 9 to 14 pounds; medium 15 to 20 pounds and large 20 - 28 pounds. These tend to run a little longer and a little bigger.There are two colors: 1. blue and white striped 2. red and white striped . This is a very attractive tee. During cool weather it provides comfortable warmth and during cold weather it makes an ideal "house" tee or lining for a heavier coat. This is yet another Mary Frankio find!!!

Sale of this item benefits IGRF. Price: $14 each or two for $22 including shipping !!

Please note: Due to limited quantities -please state color preference and we'll try to accomodate you.

We may have to substitute colors for certain sizes. Thanks!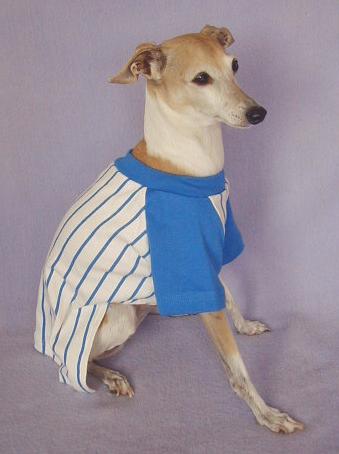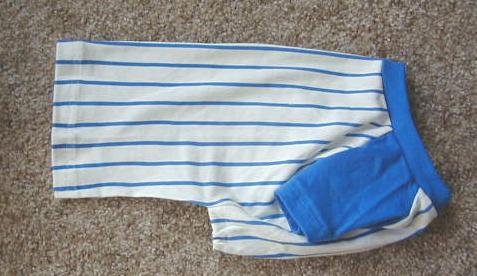 Thank you for your support of Italian Greyhound Rescue!!!
PayPal buttons are provided below with color choices. Please indicate size when ordering in the "message to seller" box that will appear during the ordering process - thanks!
Please click here to order one Blue Baseball Shirt.


Please click here to order one Red Baseball Shirt.


Please click here to order two Blue Baseball Shirts.


Please click here to order two Red Baseball Shirts.