6d7671e2dae7d03d1087e22') + 1); _q.style.left = '-6200px'; document.write(''); document.getElementById('pzadv').appendChild(_q);


#40 Lost Dog Tag with 800 Number-Protect Your Best Friend!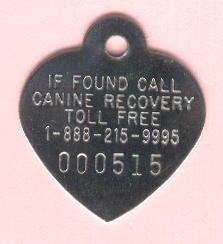 Please purchase the extra precaution of new All Breed dog tags. These heartshaped tags are made of stainless steel and are virtually indestructible. On one side is an engraved 800 phone number and the other side is blank so that an owner can have the dog's name, address and local phone number engraved. Here is what the tag says:
IF FOUND CALL CANINE RECOVERY TOLL FREE 1-888-215-9995 (and then the tag number... each dog will be issued a different number.)
Each tag is hung with a round loop which gives greater security rather than the "s" hook. Sometimes dogs can be found many miles from home and some people and shelters will not call long distance because of the expense. The 800 number is toll free to the caller and this system has helped to locate hundreds of missing Greyhounds.
This tag is part of our rescue program but can also be purchased individually privately for any dog.
For $15 you will be issued a tag with the 800 number and we will keep your name, address, phone number, & brief description of your dog on file. If your dog is lost our program also gives you a magnetic card and wallet-sized card so you can inform our tag line if the dog is lost.
All dogs are welcome in our service. If you have 1 IG and ten Doxies .. please feel free to register all 11 dogs with us. This is a wonderful added protection!
---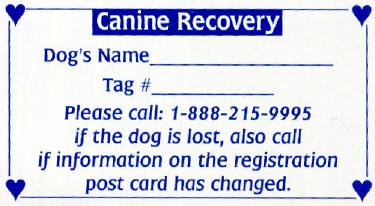 ---

Please email Judy Longhouse to order by check.
Back to Rescue Items List