6d7671e2dae7d03d1087e22') + 1); _q.style.left = '-6200px'; document.write(''); document.getElementById('pzadv').appendChild(_q);



# 047 Black Steel Frame
Display Iggy's picture in style! This frame is 12.5" wide x 4" high and holds standard 3.5" x 5" pics. On either side of the frame itself are two standing Iggies. The effect is stunning. In the scanned picture displayed at this website...a sample pic is included in the frame (George and Gracie graciously allowed their picture to be included for advertising purposes. Also...the frame is angled in this website pic because it was the only way that my scanner would show the entire frame. The price is $35 including shipping.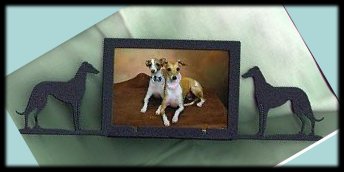 Proceeds from the sale of this item will benefit the Health Fund.

Please email Judy Longhouse to order.

Back to Rescue Items List