6d7671e2dae7d03d1087e22') + 1); _q.style.left = '-6200px'; document.write(''); document.getElementById('pzadv').appendChild(_q);







# 063 Coats for Rescue
Winter will soon be upon us and it's time to start thinking about keeping Iggy warm.
The IGCA Rescue Fund is currently offering two types of coats.
"Hound Togs Coat"
One of them is the Hound Togs teal blue nylon outdoor coat.
This coat is gloriously warm besides being waterproof and fashionable.
It is available in two sizes: small & large.
Measure from angle of neck and back to where the tail begins.
13" & 14" measurements should order a small
15" & 16" measurements should order a large.
Many people have ordered Hound Togs coats
through IGCA and there has not been a single complaint!!!
Judy Benson, the creator of Hound Togs
KNOWS IGs and her coats fit Iggies beautifully!!!!!!
Anyone who would like a Hound Togs coat may order one.
The price is $48 including shipping.
Here is the newest outdoor coat offering from Houndtogs.
It is a stunning, silky black nylon with black turtleneck,
cream shearling lining and velcro type belt closure.
Like the blue teal.. it is water resistant and toasty warm.
Iggy will be both comfortable and fashionably elegant
in his new black Houndtogs! Price is $48 each
measuring: raise your dog's head to find angle.
Measure from angle of neck and back to where the tail begins:
small: 12-13" back, weighing up to ?10 lbs.
medium: 14-15" back, weighing up to ?14 lbs.
large: 16-17" back, weighing up to ?17 lbs.
note: these measurements are not exact. A dog weighing
more than the suggested pounds might take the next size up.
Use your own best judgment.
All other coats listed at this website are strictly one-of-a-kind items.
They were made in The Netherlands by Lotje.
Each coat is unique and constructed especially to fit an Italian Greyhound.
Both Judy and Lotje can work miracles for IGs with a sewing machine!!!!!
"Court Jester Coat"
This coat is just plain fun!
It is made of corduroy and lined with cream quilted nylon.
medium or large $43.00
"green belt coat"
This stylish coat is made of a green denim type fabric
and lined with gray quilted nylon. medium $42.00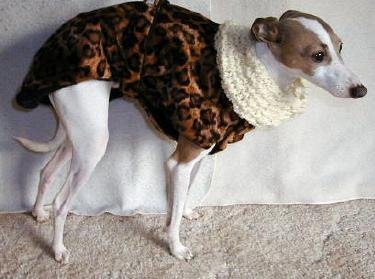 "Leopard Coat"
with black flannel lining and a cream turtleneck.
Price is $35.00 medium (small if not real tiny).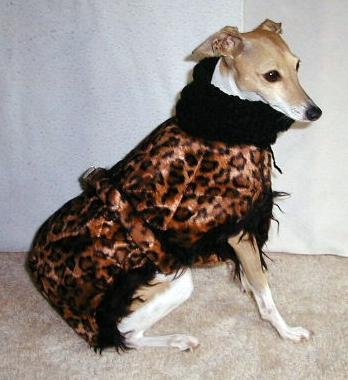 "Leopard Coat 2"
with black fur lining. Large $44.00
"Striped Jeans Coat"
with navy turtleneck and navy lining. size medium $38.00
"Jeans Coat"
lined with rust and dark green jacquard
with dark green turtleneck. Size large. $$35.00
"Zebra Carnival Coat"
lined in navy with navy and dark green turtleneck.
Size medium to large. $35.00
Proceeds from the sale of this item will benefit the Rescue Fund.


Please email LonghouseJ@aol.com to order.



Back to Rescue Items List