6d7671e2dae7d03d1087e22') + 1); _q.style.left = '-6200px'; document.write(''); document.getElementById('pzadv').appendChild(_q);

Glass Cobalt Blue Swirl Vase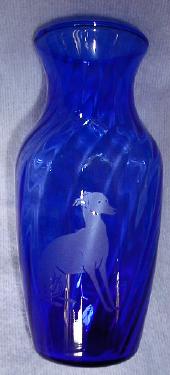 Here is an elegant dark cobalt blue glass vase with a swirl pattern.
Each swirl catches light differently and there are lots of sparkles as a result.
On the front Sue Frumerie has etched a graceful sitting Italian Greyhound.
Please excuse the photo above....because of light reflections within the camera
I did not capture the full beauty of the sitting IG.
Measurement is: 7.5" H.
This is a lovely, lovely vase!

One Only
Sale of this item benefits Italian Greyhound Rescue.

Price: $35 including shipping.
International shipping extra.
---
If paying by check
Please email Judy Longhouse to order.