Warm Fleece Hooded Huddle Coats! AWESOME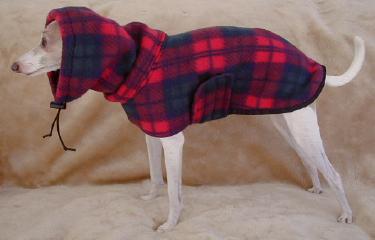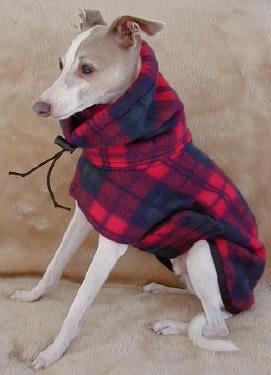 Huddle Coat is not available in this pattern - for model purposes only.

Here is an incredibly warm fleece coat called a Hooded Huddle Coat designed by the Official IG Rescue Grandmother, Gramma Frankio. (She's a GENIUS!). The IG model above is George (the Greyt) Longhouse..who usually hates photo sessions. He was so happy & warm in his new coat that he actually volunteered for the job of modelling Huddle Coats!!!

Each hood has a drawstring which could be tightened or loosened at will. The hood could also double as a neck warmer. The cinch under-band attaches with velcro and is fully adjustable.
These coats are available in two sizes:
1. regular (small and medium) 2. large
Regular size is up to 14" in length and girths up to 18"
Large size is up to 17" in length and up to 21" in girth
Girth is measured behind the front legs where the strap would go around -strap is app. 3" wide.
We have cooked up a deal with THE BEST quality fleece on the market by Malden Mills...but we bought so many different designs and solid colors,etc. that Mary will choose a coat that will best fit each IG.
So far she is batting 1000!! Everyone loves her choices.
Please let us choose for you, according to the description if the gender, temperament and color of your dog.
---
PLEASE NOTE!
Mary Frankio is asking that people include the following information:
dog's sex, color, size and a little about his/her personality*....
*If paying with PayPal and to avoid delaying your order...............
Please put this information in the Message Box in the PayPal form.
(If paying by check send the information to Judy)
---
NOTE: Please allow 14 to 28 days for delivery.
Sale of these coats benefits IGCA Rescue (IGRF)

Price $30.00 including shipping for huddle coat.
---