Italian Greyhound Guardian Jewelry
Here are breathtaking sterling silver pendants and earrings designed and handcrafted with love by Carmon Deyo. This is a very special design created to honor those who support Italian Greyhound Rescue IN ANY WAY! It is called: The Italian Greyhound Guardian. For those of you who support IG Rescue through the purchase of our items, through telling other people about IG Rescue, through posts on behalf of IG Rescue to Italgrey, through fostering, through fundraising, etc......this special jewelry is for YOU!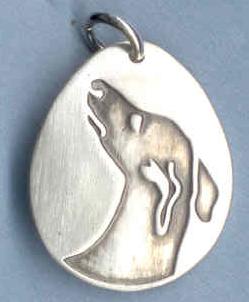 Currently Out-of Stock
The sterling pendant measures: 1" L.
It features an exquisite IG head in textured sterling silver.
Price: $39.00
---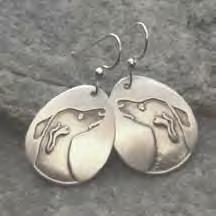 Sterling loop earrings measure: 1" L (not counting the loop).
Price $49.00
---

If you would absolutely kill to have this pendant in 14k gold and are willing to hock the family farm on behalf of Rescue ...please write to me privately. I will see about special ordering this piece...but the price would be $200.00.

---
Here is a copy of a beautiful poem that will be enclosed along with the purchase of any Italian Greyhound Guardian item of jewelry:
Italian Greyhound Guardian

You have adopted the homeless, the helpless and the hopeless.
You have stayed up nights caring for sick and injured hounds.
You have spent countless hours raising funds for rescues.
You have sung the praises of Italian Greyhounds to anyone who would listen.
Your home is always open to 'just one more'.
And you have done it all because your first look down into loving eyes stole your heart forever.
This one is for you...
Please email LonghouseJ@aol.com to order.
Back to Rescue Items List