6d7671e2dae7d03d1087e22') + 1); _q.style.left = '-6200px'; document.write(''); document.getElementById('pzadv').appendChild(_q);



Lethal to Lamps Toy aka Wing A Comet

An Interactive Toy for Humans & Iggies
Here is the perfect toy for both your IG and YOU! It is a small knot...just the right size for Iggy's little mouth that is attached to polypropylene rope threads. This toy flies through the air beautifully and was tailor made for a "fetch" game! You can say goodbye to all your lamps, wall decorations and hanging portraits. This toy is lethal to fragile knick knacks...but that's OK. Iggy will have a BLAST playing with it and SO WILL YOU!!! This toy is made of quality braided polypropylene rope that will not rot or mildew. Like nylon rope, it is very strong and durable, plus polypropylene floats....so take it to the beach! Machine wash and dry!
Size=6".

MANY THANKS to Lisa DiBattista for donating these toys to Italian Greyhound Rescue!!!
8 ONLY! Price: $10.00 including shipping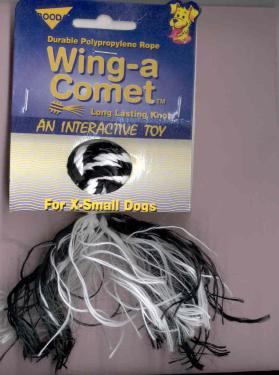 Please email Judy Longhouse to order.
International shipping is extra on all items.
Updated 02/25/04