6d7671e2dae7d03d1087e22') + 1); _q.style.left = '-6200px'; document.write(''); document.getElementById('pzadv').appendChild(_q);


#188
The Italian Greyhound, 21st Century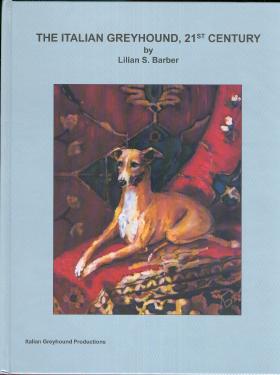 Just about everything worth knowing about an Italian Greyhound is contained in this updated hardcover volume titled: The Italian Greyhound, 21st Century by Lilian S. Barber. There are over 350 pages and over 400 photos. The text is clear, compelling and will provide hours of highly informative, pleasureable and entertaining reading. Like the Barber 1993 volume...so much information is provided...that most people will find even MORE fun in the re-reading than in the first introduction.

Anyone who loves Italian Greyhounds will be thrilled with this book!!! It should also be mentioned that significant contributions were made to this book by Teri Dickinson, DVM (veterinarian specializing in Italian Greyhounds); Audrey Sutton (authority on IG Collectibles and Collecting); Barbara J. Silverstein (Obedience & the IG)); Patricia Campbell (Agility and the IG); Con Moothart (Lure Coursing & the IG); Teri Dickinson (IG in Racing); Lilia Berozkina (artist responsible for gorgeous IG portrait on cover). Please see below for ordering instructions and also a listing of the table of contents:

Please write a short note indicating that your purchase was made through the IGCA Rescue site, make your check in the amount of $34.45 (this includes price of shipping) for an unsigned copy or $39.00 (this also includes price of shipping) for a signed copy payable to Italian Greyhound Productions and mail to:

Italian Greyhound Productions
8410 Kingsgate Rd
Potomac, Maryland 20854-1740

If you do not already own a copy of the previous book by Lilian Barber titled: The Complete Italian Greyhound published in 1993 please order through the following site:
http://igrescueitems.tripod.com/171.html

Having BOTH volumes will assure a more complete compilation of breed information in your own personal library!!!!
Lilian Barber acquired her first IG in 1966. A photographer and freelance writer, Lilian is a keen observer and has pursued her interest in the breed with a natural curiosity and a deep love and understanding for the IG's idiosyncrasies as well as its affectionate nature, beauty and adaptability. She has bred and finished over 40 champions. She has also served as past-president of the Italian Greyhound Club of America along with other leadership positions, has written articles on a regular basis for "The Italian Greyhound Magazine" and also is a frequent contributor to "Top Notch Toys" and other periodicals. Lilian is a noted authority on this breed and has been invited to travel literally all over the world as a dog show judge. Her own dogs are not merely show dogs...but much loved family members...so Lilian is able to write from the perspective of both the show world and the pet point of view.

Here is a copy of the Table of Contents:

Preface

Frequently Asked Questions

PART ONE---AN ITALIAN GREYHOUND PRIMER
1. Characteristics of the Breed
2. The Italian Greyhound Standard
3. History
4. How and Where to Buy a Puppy
5. Before You Bring Your IG Puppy Home
6. Grooming
7. Housetraining
8. Nutrition
9. Basic Training
10. Coping with Problems
11. Traveling with Your IG
12. Getting Involved
13. Rescue and Adoption
14. IG Collectibles and Collecting

PART TWO---HEALTH AND WELFARE OF YOUR IG by TERI DICKINSON, DVM
15. Keeping Your IG Healthy
16. If Your IG Gets Sick
17. Genetic Health of Italian Greyhounds

PART THREE---THE IG AS A SHOW DOG
18. To Show or Not to Show
19. An Introduction to Dog Shows
20. Interpreting the Standard
21. The Italian Greyhound Movement
22. Bloodlines and Choosing One
23. Some Top Producing Pedigrees
24. Buying a Show Puppy
25. Show Training and "The Uglies"
26. Showing the Italian Greyhound

PART FOUR---THE IG AS A PERFORMANCE DOG
27. The IG in Obedience
28. Agility and The IG
29. The IG in Lure Coursing
30. The IG in Racing

PART FIVE---ADVANCED IG OWNERSHIP
31. To Breed or Not to Breed
32. Choosing a Stud Dog, Basic Genetics
33. The Brood Bitch, her Care and Breeding
34. The Litter
35. Selling Puppies
36. Stud Management
37. When the Numbers Grow
38. The Italian Greyhound in Old Age

Bibliography

Picture Index

Health Index

About the Author

Please email LonghouseJ@aol.com to order.

Back to Rescue Items List