6d7671e2dae7d03d1087e22') + 1); _q.style.left = '-6200px'; document.write(''); document.getElementById('pzadv').appendChild(_q);

ITALIAN GREYHOUND RESCUE
Bracelet Bands

Here are some beautiful 100% silicone Italian Greyhound Rescue bracelet bands. We are hoping that many of you will order one or more of these lovely bands and spread the word about canine rescue in general and IG Rescue in particular.
The colors are vibrant and lovely!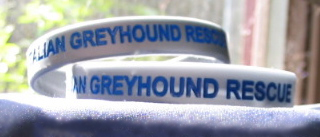 There are two sizes.
Large: 8 3/8" around and will fit most adults and large-framed teenagers.
Medium: 7 3/8" around and generally fits ages six and up, including most teenagers and small-framed women.
Price is $12 per band including the cost of shipping.
Sale of these items will benefit IGRF (Italian Greyhound Rescue Foundation).
---
If paying by check please e-mail
Judy Longhouse at: LonghouseJ@aol.com with your order.

---
Please click here to purchase a bracelet band.
Please choose this button if you care to purchase a bracelet and donate extra money. Thanks!