6d7671e2dae7d03d1087e22') + 1); _q.style.left = '-6200px'; document.write(''); document.getElementById('pzadv').appendChild(_q);
#114 Hand Knit Sweaters by Joan Sherman
Thanks to Joan Sherman we are delighted to offer hand knit sweaters... in lovely shades listed below. These sweaters are hand knit by someone who both knows, owns and loves Italian Greyhounds. Each sweater is fully machine washable. Joan suggests putting the sweater in a laundry bag and machine washing on a gentle cycle. Even without a laundry bag they wash beautifully. The sweaters are now available in sizes small, medium and large. They are toasty warm!
Please scroll down to see the sizes and wonderful variety of colors.
Digital images are fairly true to color, but I can tell you that these sweaters are lovely! If you have a question on a color, please email me.

Gracie and George Longhouse are modeling the blue and misty charcoal sweaters.

Price is $29, including shipping.
Special thanks to Joan and her buddies at work who gifted her with yarn this holiday. :) Joan donates ALL of the talent, time and yarn-the Iggies can't thank her enough!!!!!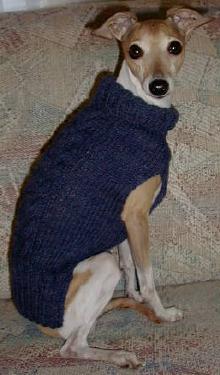 ---
Size Small
Bright Red Hand Knit Sweater (2)
Lavendar Hand Knit Sweater (8)
Cinammon Hand Knit Sweater (2)
Ocean Blue Hand Knit Sweater(4)
Soft Yellow Hand Knit Sweater (2)
Medium Green/Multi Trim Hand Knit Sweater (2)
Light Blue Hand Knit Sweater (3)
Royal Blue Hand Knit Sweater (1)
Dusty Rose Hand Knit Sweater (4)
Dusty Blue Hand Knit Sweater (1)
Forest Green Hand Knit Sweater (2)
Navy Blue Hand Knit Sweater (1)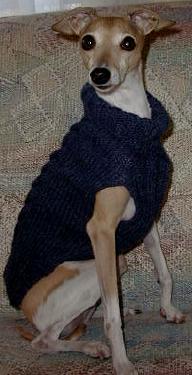 Size Medium
Cinnamon Brown Hand Knit Sweater (4)
Butter Cream Hand Knit Sweater (2)
Dusty Rose Hand Knit Sweater (2)
Military Blue Hand Knit Sweater (1)
Medium Green Hand Knit Sweater (2)
Magenta Deep Hand Knit Sweater (1)
Royal Blue Hand Knit Sweater (1)
Teal Green Hand Knit Sweater (1)
Lavendar Hand Knit Sweater (1)
Bright Red Hand Knit Sweater (1)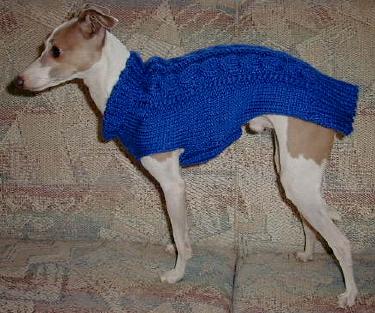 Size Large

Deep Magenta Hand Knit Sweater (1)

Ocean Blue Hand Knit Sweater (1)

Bright Green Hand Knit Sweater (1)







Please email LonghouseJ@aol.com to order.



Back to Rescue Items List